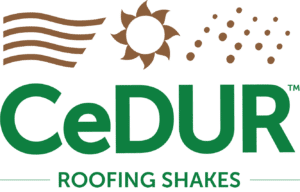 From Arvada Roofing And Home Improvement
CeDUR Roofing provides authentic natural beauty that you're looking for in roofing material. Form it's aesthetically pleasing design to it's durable, long lasting material, CeDUR roofing shakes are the best option for your home. It's no surprise why homeowners in Arvada and the surrounding communities choose CeDUR shakes.
Call Arvada Roofing & Exteriors at (720) 864-0306 to find out which CeDUR roofing shake design is best for your home. Schedule your free estimate today!
Start Your Project Today!
CEDUR RESIDENTIAL ROOFING SHAKES FOR ARVADA HOMEOWNERS
Arvada Roofing & Home Improvement are certified roofers in Arvada and Denver county. Our experienced roofers have undergone training to effectively and efficiently install CeDUR roof shakes on your home. With a great brand like CeDUR, you'll have a roof that looks great and protects your home and family. Learn more about CeDUR shakes below or contact us for a free roofing estimate.
OUR CEDUR ROOFING SHAKE PRODUCTS
WALDEN
Reminiscent of a 10-15 year old wood shake, the Walden - Chocolate Brown product is colored exactly like it sounds. The Walden material is just a bit darker of a material when compared to Live Oak. If you want an authentic looking wood roof, Walden is the roof shake product to go with.
LIVE OAK
Reminiscent of a new, traditional hand split cedar shake, Live Oak offers a caramel tone that compliments many different architectural styles and designs. The fresh cut lighter hue gives Live Oak it's traditional light cedar wood appearance. Live Oak compliments darker tones well but can be used with medium to lighter tones if matched tastefully.
SHILOH
If you want the authentic wood appearance of aged cedar wood that's endured some sea moisture, the Shiloh shake product is the one for you. This beautiful product gives you a beautiful color that compliments whites, light grays, blues, and other lighter tones.
GOLDEN CEDAR
A material with a beautiful golden hue, Golden Cedar is a fantastic roofing shake that you would love to have on your home. It's aesthetics compliment a wide variety of styles and designs. The material also has one of the highest insulation values for shake in the industry, making it a great option for energy conscious homeowners.
CHOOSE YOUR TOP RATED LOCAL® ROOFERS
Arvada Roofing and Home Improvement uses CeDUR roofing shakes for many of the residential roofing projects across Arvada and greater Denver, because it's one of the best roofing materials that offers beauty and durability all in one. Homeowners in Colorado love the look, strength, and lifespan of the material. Let our team help you pick out the best CeDUR shake product to fit the vision for your home.
Get a free estimate from Arvada Roofing and Home Improvement today.
OUR

ROOFING

AND

HOME IMPROVEMENT

SERVICES
CUSTOMER CARE CENTER
CONTACT US